microSD cards are the chameleon of media cards. Use them for creative production with drones, 360°, and POV action cams, or add processing muscle to Android devices or Nintendo Switch gaming consoles.
MicroSD cards are not created equal. In fact, among all memory cards, the price points of microSD cards vary the widest while the number of copy-cats and counterfeits seem endless. Therefore, it's important to shop from reputable brands and dealers and to consider certain factors such as size, speed, class, and reliability when selecting your next microSD card.
Each device or application can have its own format demands for microSD cards. This can make the microSD selection process challenging and confusing. We've created a Fast Facts Guide to offer our recommendations and considerations for the best microSD for your drone, action cam, gaming console, smartphone, tablet, security, or dash cam.
FAQ's
Which size microSD card should I use with drones, 360°, and POV Action Cams?
Which microSD card is best for gaming?
Are the fastest microSD Cards the best?
What´s the difference between UHS-I and UHS-II microSD cards?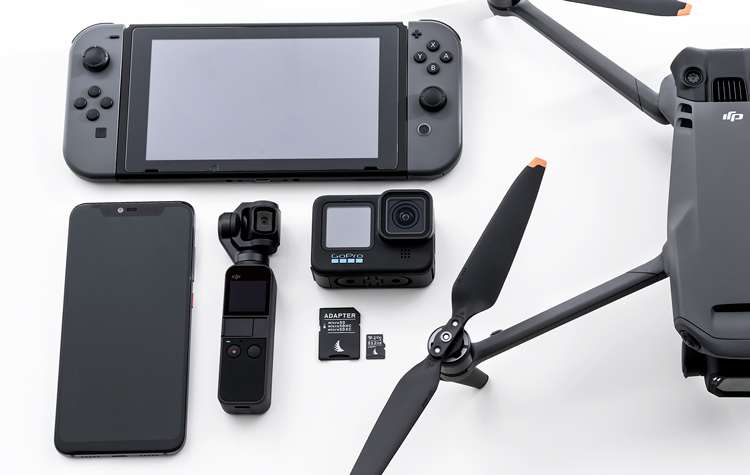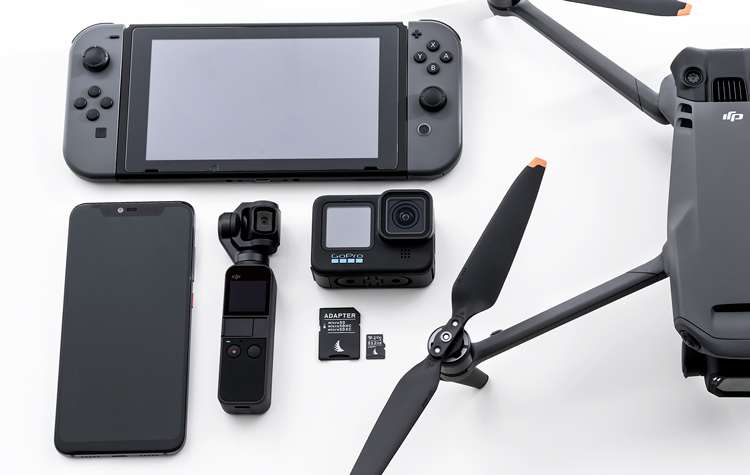 Which size microSD card should I use with drones, 360°, and POV action cams?
When we talk about the size of a microSD memory card, we are talking about its capacity. The amount of space available on a card's chip to read, write, and store data.
A microSD card helps you to do things like stream games faster or capture high definition 4K drone footage. Our modern technology use requires media cards that can generally support larger volumes of data.
For the production of drone, 360°, and POV action cam video clips, we recommend between 128 GB to 512 GB capacity. You'll want to consider the fps (frames per second) resolution settings that you prefer to shoot in as well as the duration of your production sessions. Higher fps as with 6K production and longer shoots will indicate the need for higher capacities.

---
Which microSD card is best for gaming?
As for gaming with consoles like Nintendo's Switch, it's important that you select a UHS-I card since that is the format supported by the console with max read speeds of up to 95 MB/s.
Angelbird's AV PRO microSD V30 UHS-I card features Stable Stream™ technology which allows the consistent flow of data between card and gaming console during play. While other cards on the market may offer an ultra-high read speed, it's not a clear indication of what happens to processing speed once the card in action. Since the Nintendo Switch device caps out with 95 MB/s processing, having a steady and constant flow of data throughout the capacity of the card means that you get uninterrupted play and performance every time!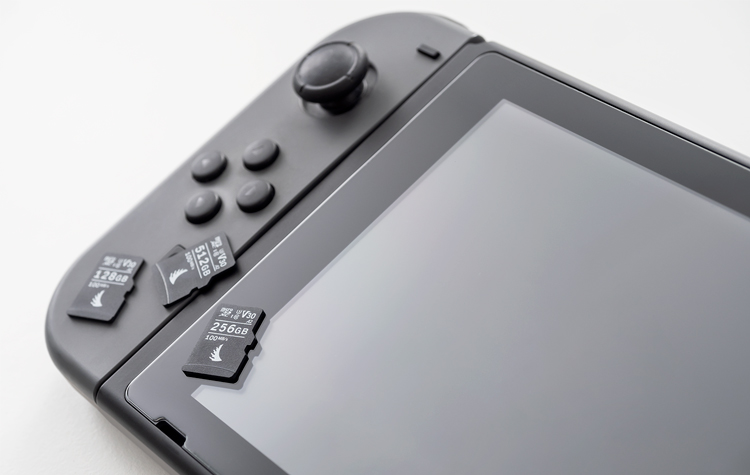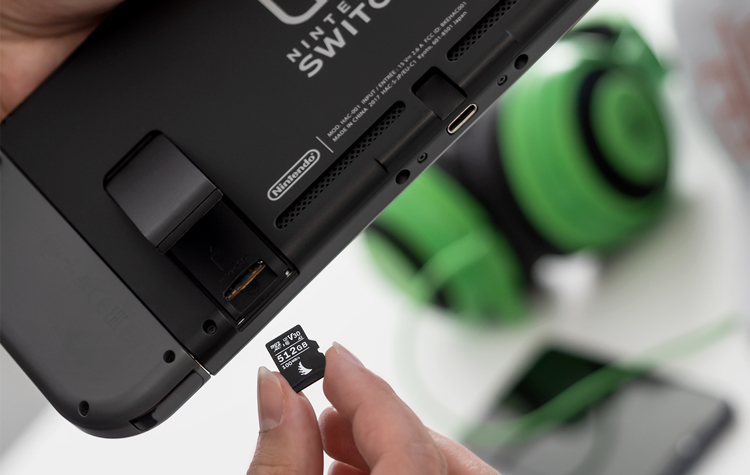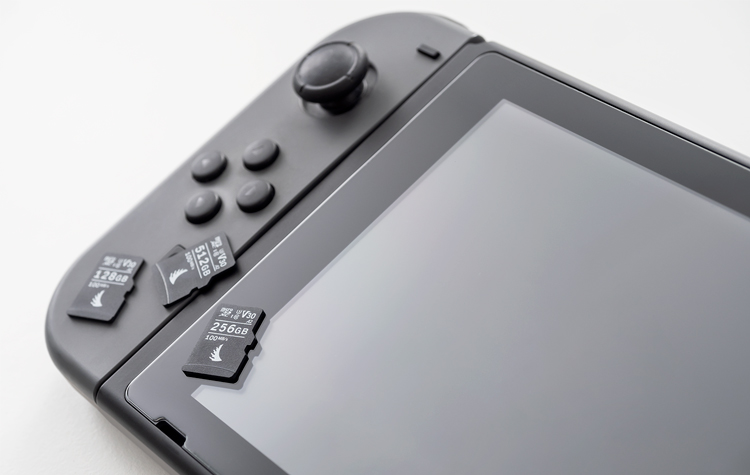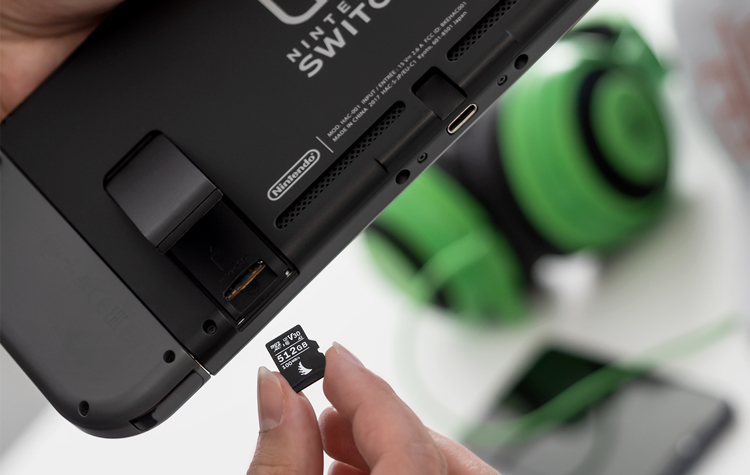 ---
Are the fastest microSD cards the best?
Who doesn't like fast? When it comes to read and write speeds of microSD cards, fast means efficiency- the efficiency to write or record data or to read, communicate, or transfer data between devices or screens. To assess the kind of speed you first need evaluate if the intention of your device is to "record" data or "store and transfer" data. If you have a recording device that requires a microSD, such as a drone, action cam, or dash cam, then you'll want to pay attention to the write speed when shopping for a microSD card. If you are transferring or storing data, as with a Nintendo Switch, or Android tablet or smartphone, the read speed will be important to you.
While it seems that many microSD cards claim to be "the fastest on the market," that might not be the ultimate test of performance for your needs. At Angelbird, we tend to emphasize the "Sustained Speed" read and write performances.
From our perspective, the true measure of a card's performance lays with its ability to write or read data consistently. This is especially important when shooting videos. If there is a large gap between the minimum and maximum read/write speed, then chances are you will see a dropped frames or errors, or a big drop off in the performance quality as you begin shooting, or gaming.
The entire AV PRO line of memory cards from Angelbird feature Stable Stream™ technology and ensure consistent, stable performance throughout the capacity of the card.

---
What´s the difference between UHS-I and UHS-II microSD memory cards?
UHS refers to something called Ultra-High-Speed bus. It refers to the row of pins visible on the back of the card that support the interaction between card and device. Based on the number of rows you can find cards listed as UHS-I, UHS-II, and UHS-III.
Since UHS-II cards have a second row of pins as compared to UHS-I, they can offer more of a speed benefit. However, that speed benefit is only realized if your camera or device also has a second row of pins internally to support the connectivity interface.
However, a UHS-II isn't necessarily guaranteed to be faster. The UHS-I and UHS-II specifications are designed to be backward compatible. Meaning, you can use a UHS-II card in a device that's compatible with UHS-I and vice versa. Many drone and action cameras only support a UHS-I cards. Therefore, even when a UHS-I card is used with a UHS-II SD card adapter, processing speeds will defer to the UHS-I specification.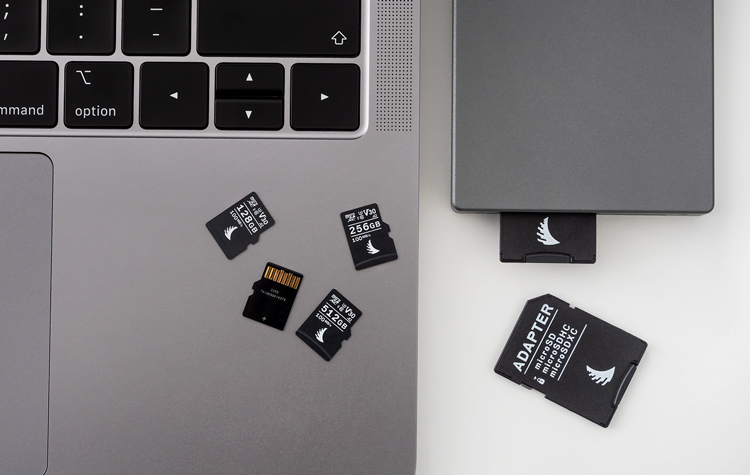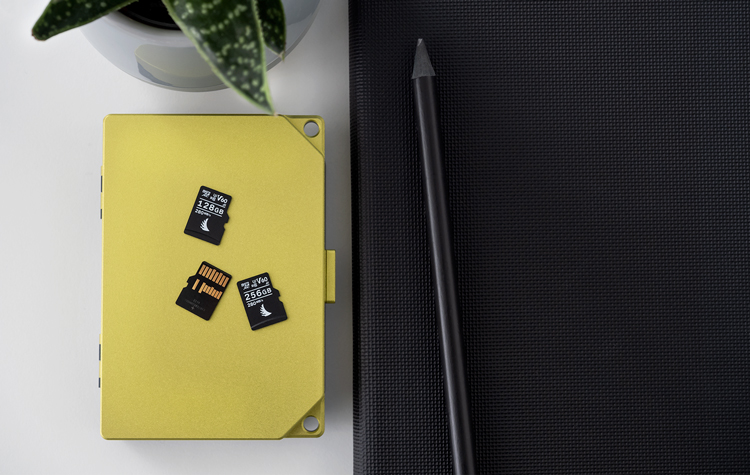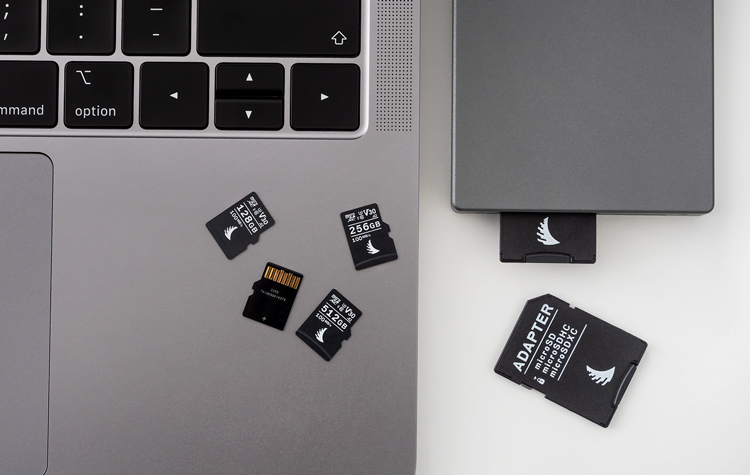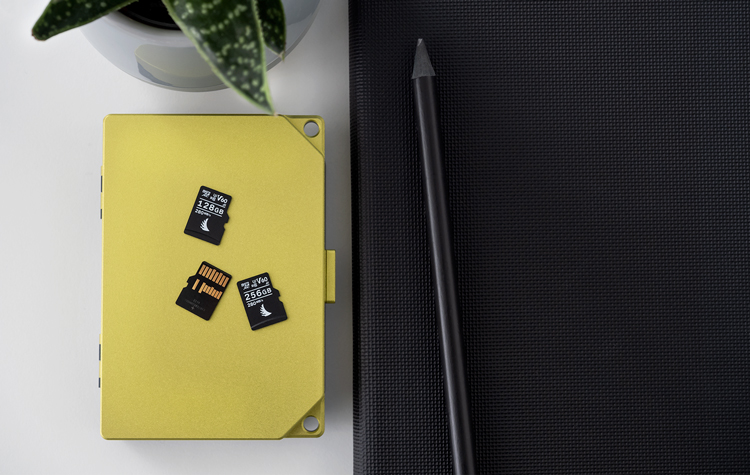 ---
Comparison Chart microSD V30 vs microSD V60

AV PRO microSD V30

AV PRO microSD V60
Video/UHS Speed Class
V30, UHS-I
V60, UHS-II
Application Performance Class
Android Smartphones and Tablets
A2
A1
Capacity
128 GB
256 GB
512 GB
128 GB
256 GB
Maximum Speeds
Read: 100 MB/s
Write: 90 MB/s
Read: 280 MB/s
Write: 160 MB/s
Sustained Speeds
Read: 95 MB/s
Write: 80 MB/s
Read: 260 MB/s
Write: 140 MB/s
For Use with
Drones, action/360°/POV cameras, smartphones, tablets, gaming consoles

Qualified for popular drones and action cams from GoPro, Insta360 to DJI, Android smatphones and tablets, and Nintendo Switch gaming consoles
Drones, action/360°/POV cameras

Qualified for popular drones and action cams from GoPro, Insta360 to DJI
Application
Full HD, 4K, and 6K Video and Photo

Additional storage for smartphones, tablets, and gaming consoles

A2-rated card ensures faster app loading and extended performance on smartphones and tablets
Full HD, 4K, and 6K Video and Photo

Larger productions with drones and action/360°/POV cameras
microSD-to-SD UHS-II Adapter
Included
Included
FAST FACTS GUIDE for microSD compatible devices
Drones and Action/360°/POV Cams
Durable protection from harsh conditions
Card and content protected from extreme temps, moisture, shock, magnets, and x-ray
Stable Stream™ technology eliminates potential for dropped frames or video production errors
High capacities up to 512 GB for longer production shoots
Nintendo Switch Consoles
UHS-I class
Sustained Read Speed of 95 MB/s
Stable Stream™ technology for uninterrupted play
Android Phones and Tablets
A2 Rating
Faster app loading, better performance, storing video, photo, and audio files
Up to 512 GB storage capacity
Dash Cams and Security Cameras
UHS-I class
Sustained Write Speed of 80 MB/s
Up to 512 GB capacity for extended recording
For camera compatibility please reference our Compatibility List for up-to-date information.