• Angelbird's CFexpress media cards support future advances in digital camera technology 6K, 8K and beyond with speeds 3.5x faster than CFast media.
• The Angelbird
AV PRO CFexpress
memory card is designed for professional cinema cameras demanding high-speeds and extreme durability in the CFexpress Type-B form factor
(up to 1 TB capacity)
also backwards compatible with XQD compatible cameras with relevant firmware updates.
• The Angelbird
AV PRO CFexpress XT
features stable, sustained performance that can endure industrial demands and deliver peak quality performance for leaders in creative production
(up to 640 GB capacity)
• Angelbird's
CFEXPRESS CARD READER
performs at speeds in tandem with the
AV PRO CFexpress
and
AV PRO CFexpress XT
cards and stacks as a modular system with Angelbird's CFast 2.0 and SD card readers.
• Availability of
AV PRO CFexpress
memory cards will follow the manufacturers availability of integrated CFexpress camera technology planned for release by the end of 2019.
---
Dornbirn, AUSTRIA, September 12, 2019 / PR Newswire
– Angelbird Technologies, the premier developer of camera-specific media for professional creatives, announces the addition of CFexpress Type B memory cards to their high-performance lineup of AV PRO media solutions. The call for quick adoption of advanced digital video production standards to 6K, 8K and beyond, is being driven by high-profile international broadcasting as well as an increased need for industrial data processing and performance requirements. CFexpress memory media meets the high-speed demands of new technology (media that can write data at a minimum of 400 MB/sec).
It also mirrors the XQD form factor-- allowing select cameras that currently utilize XQD to now also accept CFexpress with a firmware update. But different from XQD, is that the CFexpress adopts the PCIe® Gen 3 interface standards promoted by the
CompactFlash Association
.
---
SUPER SPEED FOR THE FUTURE OF CREATIVE PRODUCTION
Angelbird's
AV PRO CFexpress
and
AV PRO CFexpress XT
offer read/write speeds up to 1700 MB/s and 1400 MB/s. CFexpress memory cards perform at speeds 3.5x faster than CFast technology- the current memory card leader for high-bitrate video production.
One additional advantage of CFexpress media, is that it offers longevity.
CFexpress technology will remain relevant for years to come
since it can already support the speeds required to capture 8K recording resolution even though 8K camera technology is still in development.
---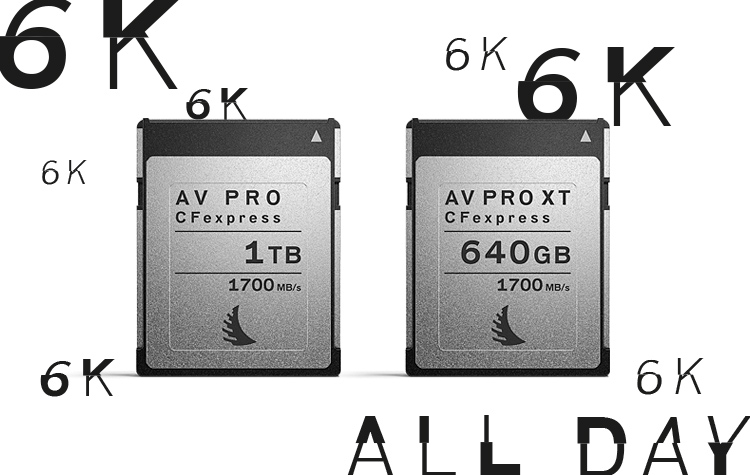 SUSTAINED SPEED FOR SUSTAINED PERFORMANCEAngelbird's CFexpress cards offers real-world, sustained performance
that will write data consistently without performance drop-offs, thus avoiding choppy footage or dropped frames. While both the Angelbird
AV PRO CFexpress
and
AV PRO CFexpress XT
offer competitive sustained performance, their ideal applications may vary according to the specific production needs of the user.
The
AV PRO CFexpress
is best suited for production work that requires a minimum guaranteed write speed of 550 MB/s, a recording speed still well above the current XQD-400 standard of 400 MB/sec, with capacities of
up to 1 TB
. Creative professionals working at the leading edge of digital production will find that the CFexpress memory card is the ideal media for content production that demands 4K and 6K+ resolution.
The
AV PRO CFexpress XT
is the best rock-solid option for optimal sustained write performance. With its 1 GB/s sustained write speeds the 4-6-8K resolutions will be able to be captured uncompressed RAW. The
AV PRO CFexpress XT
is ideal for high-capacity frame rate capture needs with data capacities up to 640 GB.
---
EXTENDED ENDURANCE FOR INDUSTRIAL RECORDING
While the future standards for creative production rely on increased processing speeds, industrial applications, from security cameras to quality control imaging,
require stable, sustained data capture for their extended recording needs
. The
AV PRO CFexpress XT
combines a sustained write performance with high capacity storage up to 640 GB.
---
NEW CFEXPRESS CARD READER
The reading and processing of data captured on CFexpress cards will require a capable CFexpress reader that can also efficiently transfer large data files for post-production work. Angelbird will also release a
CFEXPRESS CARD READER
which performs at speeds in tandem with the
AV PRO CFexpress
and
AV PRO CFexpress XT
cards and modularly stacks with Angelbird's
CFast 2.0
and SD card readers.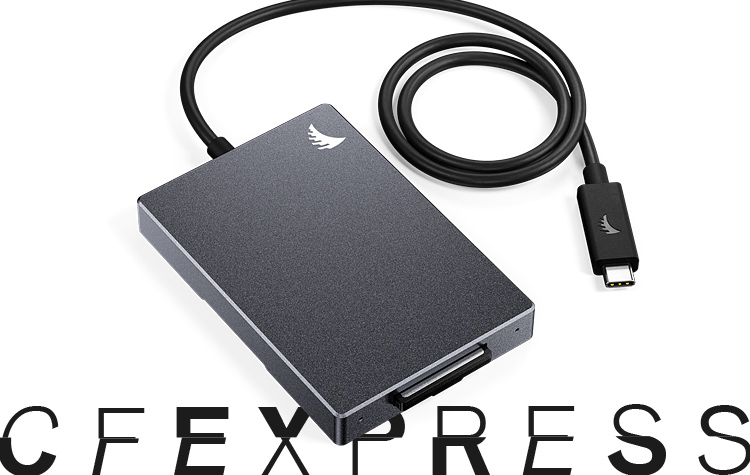 The
CFexpress Card Reader
includes Type-C to Type-C cable (50 cm, 19.7 in) and active USB-A to USB-C adapter, along with non-slip rubber pads for added stability during operation and Velcro binding for easy portability. The recessed Solid Connect™ (USB 3.1 Gen 2, 10 Gb/s) connection port helps to provide a secure connection point and minimize wear and tear. Through customer feedback, we have implemented a "Write Protect" function into all of our card readers. By enabling this switch, the user can feel secure to not delete or erase anything by mistake. This feature is supported for Mac, Windows, Linux and Android.
---
AV PRO LINE OFFERS EXCELLENCE IN QUALITY AND PERFORMANCE
Angelbird's CFexpress memory cards are the latest addition to the AV PRO product line which push the limits of speed and performance in the safest possible way. All AV PRO media solutions
(SD, CFast 2.0, CFexpress, micro SD, and SSD 2.5")
consider the real-world media needs of the professional creative and feature Stable Stream™ performance technology, ideal for high-definition, lossless (drop-fee) video recording and smooth data processing.
The entire lineup of Angelbird's AV PRO media solutions are built with rock-solid performance protections such as, shock, dust, X-ray, and splash-water proofing, and are tested for safe operating temperatures at extremes of (-25C° to +85C°).
---
FREE PROFESSIONAL DATA RECOVERY SERVICE
Angelbird offers free professional data recovery service on all its products. Rather than a providing a self-service software download, Angelbird provides a staff of professionals who will evaluate the issue and safely attempt a secure data-recovery in their lab, care of complementary overnight shipping.
This service covers media that has encountered physical damage and/or software issues such as data or file corruption. Furthermore, Angelbird extends a non-disclosure agreement to their customers to ensure that the privacy and confidentiality of their content is also protected.
*The announcement of a camera-specific Match Pack™ solution featuring CFexpress memory cards will soon follow.
---
ABOUT ANGELBIRD
Based in the Austrian Alps, Angelbird Technologies develops and manufactures camera-specific media solutions for professional creatives.
Angelbird.com
FOR ADDITIONAL MEDIA INQUIRIES PLEASE CONTACT:
lauren@angelbird.com